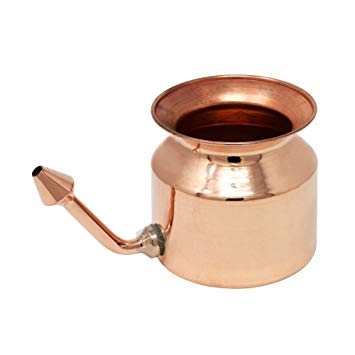 Date / Time:
Sunday January 12th, 2020
2:00 pm to 3:00 pm
Location:
Los Angeles, California
Program Fee:
$200.00 includes Jala Neti Copper pot
Jala Neti: Cleansing the Nostrils as per Yogic Sciences and Ayurveda. There are many benefits associated with this process. Some of the benefits;
•It relieves asthma, cold, allergies, sinusitis and all Kapha related ailments
•Helps with the diseases of the eyes, nose and throat
•Removes excess mucus and pollutants from nasal passages and sinuses
•Helps with insomnia, tiredness and improves the quality of sleep.
•Prevents and helps with respiratory tract diseases like Asthma, pneumonia, bronchitis
•Helps with tonsillitis, allergic rhinitis and hay fever
•Relieves migraine and headaches, anxiety, stress and brings tranquility
•Helps with epilepsy
"Neurologically, it brings a certain dynamism and at the same time, a certain tranquility. If you are hyper, it brings you down and now that you are not jumpy anymore, a whole lot of things happen, a series of cascading effects. Medically, one can experience all the benefits of a person whose nerves are calm". Sadhguru.