Be. Experience. Transform.
Create the healthy life you have always wanted…
Benefits of Private sessions:
Every one is different in terms of capabilities and their limitations. Whether physical, mental or emotional.
In One on One sessions, the individual needs of the participant is the key as the teacher focuses on the individual student. In the private sessions, modifications, variations and corrections of the postures are based on the individual needs and are tailor made for the student.
And with the vast knowledge in the filed of health, Ayurveda and nutrition, Dr. Mahdavi will offer life style, dietary and nutritional recommendations for wellness, which will also support your yoga practice. Hence her holistic approach will guide you on your path to total well being. She can also teach Ayurvedic Yoga postures for the specific Dosha or Constitution of the student as she is an Ayurvedic Yoga Therapist Expert.
[Contact_Form_Builder id="2″]
Why  Private Sessions?
The best way to learn and practice yoga is by receiving your individualized practice from a teacher who knows about the yogic sciences, the nature of the student and the nature of the practice. This is why in the past yoga was traditionally taught one on one by a teacher who has mastered the science of yoga and Ayurveda. This was done to ensure the safety and the well being of the student. In this way the student will achieve the maximum results and attain their highest potential in the most timely effective way most conducive for spiritual growth and evolution as well as physical well being.
Why Are So Many Students Using
Classical Yoga

 to Transform their Lives?
Relieves physical stress, tension and tiredness

Exercises the joints and muscles

Builds physical strength, fitness and tenacity

Takes years off the body, bringing a sense of lightness and freedom

Lubricates the joints and the skeletal system

Develops mental clarity and focus

Boosts vigor and vitality

Balances hormonal levels in the body

Slowing down of the aging process

Strengthens the core, spine, skeletal and muscular system

Remedies weak constitutions

Relief of chronic ailments

Stabilization and balance of the body

Negates the effects of jetlag and long travel

Rejuvenates the body after periods of inactivity

Keeps the system in harmony and balance

Enhances the capabilities of the physical body, mind, and energy system

Prepares the system to handle powerful states of energy

Preparation of body and mind towards a higher possibility

Creates the basis to gain complete mastery over the human system

Prepares one for deeper states of meditation
Practicing Classical Hatha Yoga Programs allows the individual to recreate themselves the way they want to be and brings about transformation both at the level of the body and the mind
Your Yoga Master Dr. Atousa Mahdavi is one of the few Ayurvedic Yoga Therapists who can teach specific postures for specific constitutions/dosha and has taught the programs to hundreds of students herself.
Classical Hatha Yoga

 – 5 Unique
  Powerful Programs!
Hatha Yoga programs are a wonderful opportunity to learn various ancient and powerful ways to transform the body and mind into great possibilities. Taught individually.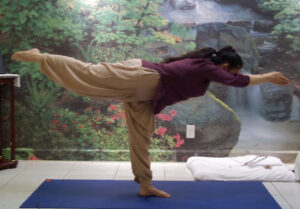 is a simple yet powerful set of 10 practices that activate the joints, muscles and energy system, bringing ease to the whole system.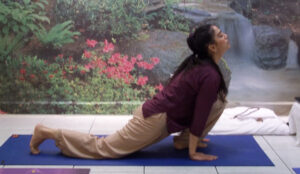 is a potent 21-step yogic practice of tremendous antiquity, designed as a holistic process for health and inner wellbeing.
are a set of powerful postures through which one can elevate one's consciousness and manipulate energies.
That's Cool… But What Else Can
Yoga Master

 Atousa
 Do?
As a person Board Certified in Integrative Medicine and Doctor of Chiropractic, she can truly guide you with knowledge to take you from where you are to where you want or need to be.
Introductory Video about Holistic Services
Slides of Atousa with her sharing experiences one year later
What Students and Clients Say about Dr Atousa Mahdavi
Dear Atousa,
Thanks again for being such a good Teacher and thanks again for the opportunity of learning Angamardhana. I learned more than I asked for. My body has been reaching a such a high level of vibrant that it feels like every cell in it is "crackling" through the day. I am impressed at how fast some strength and flexibility already built up having practiced it twice a day for just two weeks! I have been really delighted with how well I am feeling right now as a result of these practices. I have been doing it twice a day and it was very challenging for the first 8 days, but it feel so nice in the body right now that it is hard to describe. I had no idea I could feel this well in my body at this age.
Luciano Szezerbaty
Bhuta Shuddhi is the bedrock of all of my practices. It is the first thing I do every morning and afterward I do a short meditation…the Bhuta Shuddhi clears everything away and creates a space where I then set the tone of the day. If you want to find a relationship to the five elements, this is the one.
~Nikolai Telmann
Thank you Atousa for the recent review session. I learned so many things, and more importantly to follow things as they were passed down. So today I took the time to do things properly and correctly (thanks to all of your corrections), and I noticed a big difference. Also, I was very moved by the stories shared. I've been telling all my friends about Surya Kriya, especially because a lot of them have thyroid issues. So I hope you have another session soon, I've got a list of people interested! 🙂 Thank you again for offering this possibility to us in LA, we are so lucky to have you.  
Lai Lao
Setup 
One-on-One

 Sessions
Now with Dr. Atousa Mahdavi
Secure Your time and Take Control of Creating life full of possibilites…
[Contact_Form_Builder id="1″]